Board and Staff Biographies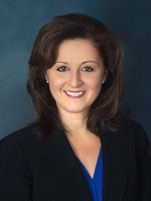 Eve Marie Perugini, Ph.D.
Eve Marie Perugini, Ph.D. is a licensed psychologist, practicing in Connecticut for over 15 years. She provides training and consultation to health professionals and various organizations on effective communication. Her clinical practice focuses on stress management, anxiety, depression, and medical conditions including brain injury. She completed her doctoral training at Hartford Hospital's Institute of Living, Connecticut Children's Medical Center, and the University of Connecticut. She has published research articles on hypnosis, parenting, and neuropsychological assessment.
Dr. Perugini is a member of the American Psychological Association and American Red Cross Disaster Mental Health Team. She serves as Veteran Outreach Coordinator for the Connecticut Mission of Mercy Free Dental Clinic and has volunteered for the clinic since 2015. Dr. Perugini serves on the Public Relations Committee and is Co-Chair of the Program Committee
Dr. Perugini was appointed to the Board in 2017.