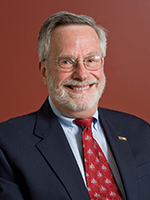 Robert M. Schreibman, DMD
Chairman
Robert M. Schreibman, DMD, a retired pediatric dentist, provided oral health care services to the Glastonbury community for over 45 years. He is the Founder of the Connecticut Foundation for Dental Outreach and Co-Founder of the Connecticut Mission of Mercy Free Dental Clinic. In addition to serving as Chairman, he is a consultant for the Connecticut Mission of Mercy Free Dental Clinic. He also serves on the Community Advisory Committee for AmeriCares. Dr. Schreibman is a Fellow of the Pierre Fauchard Academy, Fellow of the International College of Dentistry, and Fellow of the American College of Dentistry.
Previously, Dr. Schreibman was President of the Connecticut State Dental Association, Hartford Dental Society and the Hartford Alpha Omega Dental Fraternity. He was the founder of the Hartford Dental Society Smile Mobile. Dr. Schreibman served on the board of the America's Dentists Care Foundation for 6 years. He served as a board member of the Connecticut Health Foundation and Vice-Chair of the Governance Committee.He has lectured throughout the U.S. and consulted in practice management and leadership development.
Dr. Schreibman has been Chairman of the Board since its inception.