Board and Staff Biographies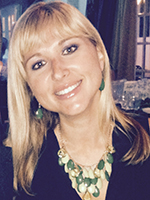 Jennifer Socha
Jennifer Socha is Vice President, and Senior Healthcare Practice Specialist at PNC Bank. She has over 20 years' experience in banking and specializes in assisting dentists and other healthcare professionals with meeting the financial goals of their practice.
Ms. Socha has held many positions in her banking career, starting as a Business Development Manager and promoted to a SBA Relationship Manager prior to her current role. Ms. Socha is a volunteer in her community. She served on the board of the CT Women's Alliance, Women in Leadership council and was an active panel member for the University of Hartford's Entrepreneurial Center. Ms. Socha has also been highly active in the New England market in educating Healthcare providers on preparing for financing and practice solutions.
Ms. Socha serves on the Development Committee and is the Chair of the Public Relations Committee.
Ms. Socha was appointed to the Board in 2016.